George Yepes: Press Releases
The Izel Murals 2013 • Conrad Hilton Hotel, Dubai UAE
George Yepes: The Izel Interior Mural/Paintings
Architects: Fino International LLC, Dubai  UAE
Architects: Wa International LLC, Dubai  UAE

Architects: DEPA Interiors LLC, Dubai  UAE

Rudi Jagersbacher, area president, Middle East and Africa, Hilton Worldwide said:
"I am delighted that we have introduced Conrad's attractive style and service to this new market as Hilton
Worldwide continues to expand our presence in the city. Conrad Dubai will cater to the needs of the ever
increasing number of global, affluent travellers, and the sophistication of the hotel will perfectly complement
the high-energy and vibrancy of Dubai."
"A jewel in The Conrad Dubai's crown is the Latin Supper Club, Izel, a carnival of Latin Artistry."
Location:
Grand Opening:  Fall 2013
The Izel • Conrad Hilton Hotel

115143 Sheikh Zayed Road
Dubai, United Arab Emirates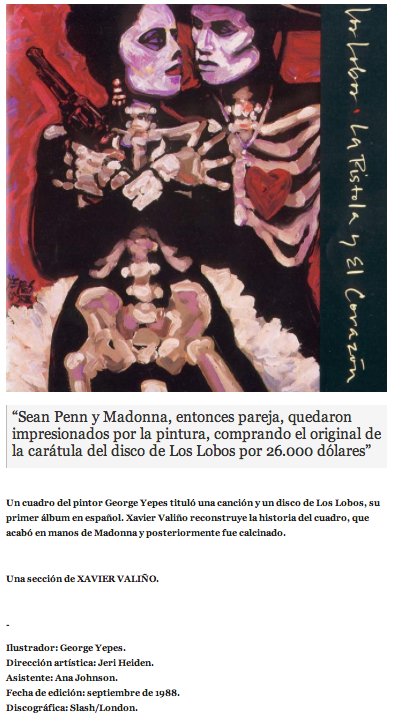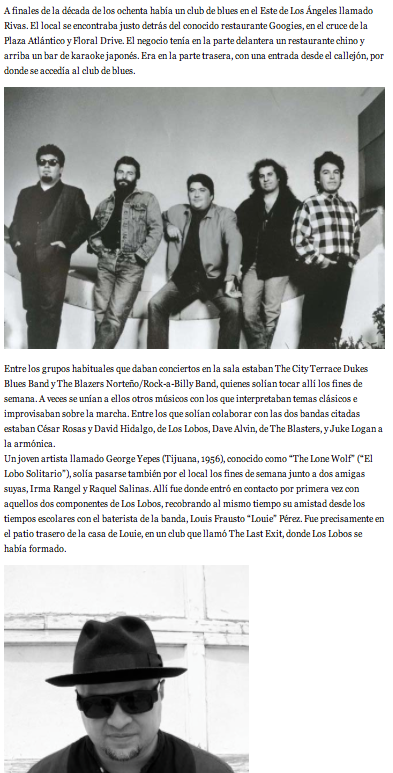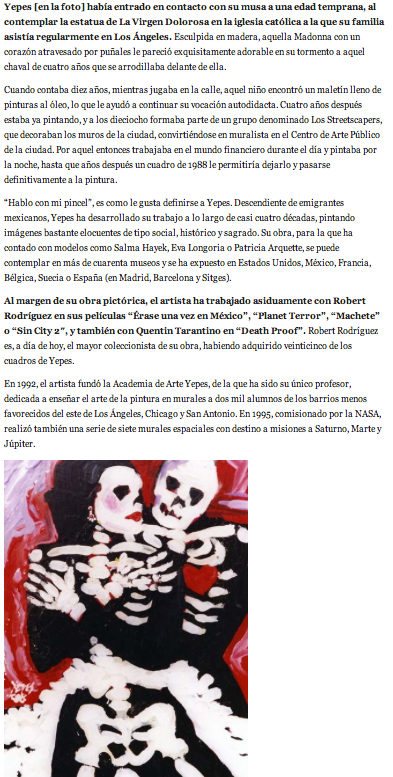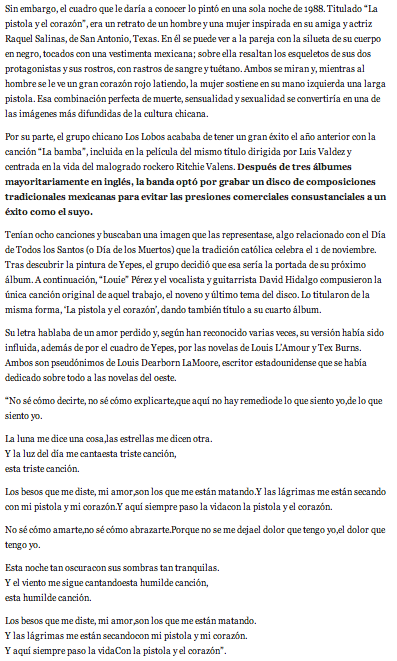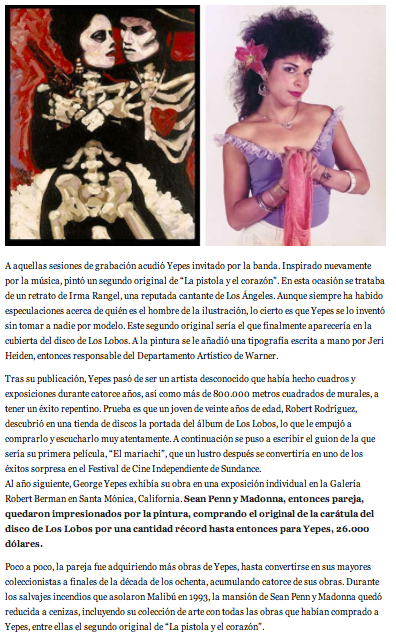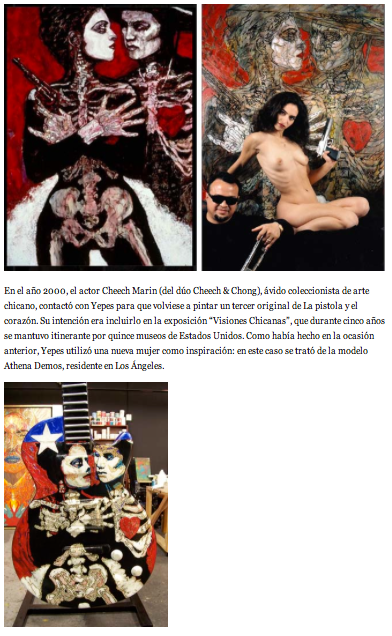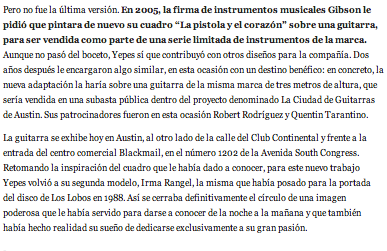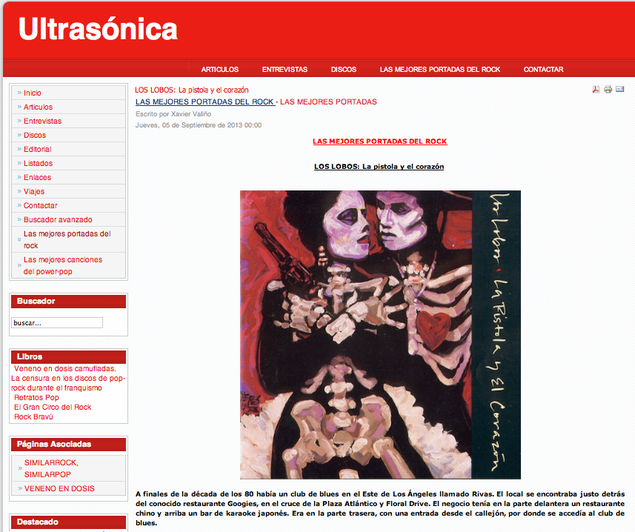 Link to Full Spain Article.
FOR IMMEDIATE RELEASE:

GEORGE YEPES: MADRID, SPAIN - PINTORES DE AZTLAN

La Casa Encendida
Ronda de Valencia, n2
28012 Madrid, Spain
Tel: (+34) 91-5063883
www.lacasaencendida.com

Yepes' marriage of Mexican and European art histories, mythologies, and archetypal forms create for a decidedly distinctive style of painting. His highly recognizable treatment of painting in monumental format calls upon classical master works by Tiepolo and Rubens for inspiration. His modern portraits, comprised of hundreds of delicate overlays that weave words and imagery throughout each composition, fuse together the sensuality of Klimt with the unabashed severity of graphic novels.

George Yepes, a.k.a. The Lone Wolf, was born in Tijuana, Mexico in 1956 and was raised in East Los Angeles' City Terrace neighborhood. Yepes, known as one of the painters from the Chicano Mural Movement of the late 1970s, has left his stylistic mark all over Los Angeles rich tapestry of visual culture; from his 28 murals around the City of Angeles, to his
paintings featured in Robert Rodriguez's films, Once Upon A Time In Mexico (2003) and Grindhouse (2007).

His work can be found in the following permanent collections and archives: Los Angeles County Museum of Art, Los Angeles, CA; Smithsonian Institution, Washington D.C.; Weisman Art Museum, Minneapolis, MN; Museum of Contemporary Art of San Diego, San Diego, CA; Museo del Templo Mayor Tenochtitlan, Mexico City D.F., Mexico; Mesoamerican Archive, Princeton University, Princeton, NJ; Mesoamerican Archive, Harvard University, Cambridge, MA; Los Angeles Latino Museum, Los Angeles, CA; National Hispanic Cultural Center, Albuquerque, NM; and the National Mexican Fine Art Museum, Chicago, Il.

George Yepes has exhibited both nationally and internationally in venues such as the Kulterhuset Stockholm Museum, Stockholm, Sweden; The National Museum of Mexican Art, Chicago, IL; and L' Espace Lyonnais d' Art Contemporain, Lyon, France.  In 2007 & 2008 Los Pintores  de Aztlan exhibition - La Casa Encendida, Madrid, Spain.

His paintings can currently be seen in the traveling exhibition Chicano Visions: American Painters On The Verge, at the
Los Angeles County Museum of Art June 15 - November 2, 2008.


GEORGE YEPES: PINTORES DE AZTLAN
Exhibition Dates: June 28, 2008 - August 30, 2008
Artist Reception: Saturday, June 28, 2008   5PM - 8PM

FOR VISUALS OR FURTHER INFORMATION, PLEASE CONTACT:

Gabriela M. Corchado, Gallery Manager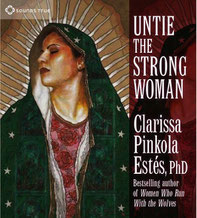 George Yepes' new book cover artwork for Bestselling Author, Dr. Clarissa Pinkola Estes.
Book title: "Untie the Strong Woman: Ancient Blessed Mother in Modern Times"; forthcoming Frasenelli, Milano, Italy, Winter 2011.
Dr. Clarissa Pinkola Estes is a Poet, Psychoanalyst, Post-Trauma Specialist, and the Author of many books on the life of the soul. Her work is published in 39 languages, most recently Persian, Turkish, and Chinese. Her book, "Women Who Run With the Wolves: Myths and Stories of The Wild Woman Archetype" was on the New York Times Best Seller list for 145 weeks.